William B. Tolle, 82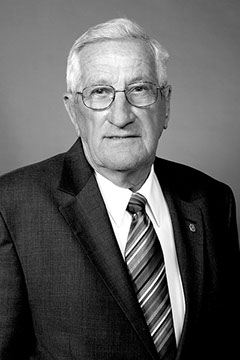 Bill was born on Sept. 22, 1936, to the late Gus and Iva Carpenter Tolle, and passed away Thursday, September 27, 2018.
Mr. Tolle was a retired Chrysler/Dodge and Plymouth Automobile Dealer of Carpenter Motors and was a local farmer. He was a U.S. Army Veteran in the Berlin Conflict. He was an active member of the Oakwoods Church of Christ, Maysville Rotary Club, Extension District Board, Mason County Livestock Association, Kentucky Cattleman Association, Kentucky Pork Producers, Kentucky Farm Bureau, Kentucky Livestock Association, Kentucky FFA Foundation Board of Finance, Mason County 4-H Counselor and active with Mason County 4-H for 50 years and he served for 26 years on the Kentucky State Fair Board.
Other awards and recognitions are Kentucky Colonel, Paul Harris Fellow-Maysville Rotary, Thomas Cooper Poe Award-UK College of Agriculture, Distinguished Service Award-Maysville Rotary, Honorable State FFA Degree-Kentucky FFA Association, Unbridled Spirit Award-Governor Fletcher, Community Leadership Award-Buffalo Trace ADD, Kentucky 4-H Centennial Hall of Fame-Kentucky 4-H, Recognition to Distinguished and Dedicated Service to Kentucky Agriculture-Kentucky Farm Bureau, Distinguished Service Award-Mason County Conservation District, Distinguished Service Award-Kentucky Association FFA and Kentucky Agriculture.
Kentucky Farm Bureau established the Wm. B. Tolle Farm Bureau Scholarship in his name to be presented each year to any youth (4-H or FFA Member) that excel in livestock at that level and the Mason County Extension office was named Tolle and Cary Extension Education Center. His passion was livestock, farming, and promoting participation in 4-H, FFA, and Farm Bureau youth activities to all students/youth and his family.
Mr. Tolle is survived by his wife, Ruth Jackson Tolle, whom he married Dec. 20, 1959. He is also survived by two sons, William Rodney (Amber) Tolle of Maysville and Brent Tolle of Taylorsville; three grandchildren, William Jackson (Annie) Tolle, Taylor Tolle and Courtney Tolle; four brothers, Don (Jeanette) Tolle, Frank (Sue) Tolle, Jerry (Linda) Tolle and Ronnie (Judy) Tolle; and one sister, Jenny (Charles) Rottinghouse.
He was preceded in death by four brothers, Milton Tolle, Emerson Tolle, Dwayne Tolle and Edward "Ned" Tolle; and three sisters, Allene Parker, Bonnie Perrutt and Rebecca "Sis" Calvert. Memorials may be made to Mason County 4-H, Mason County FFA, or Oakwoods Church of Christ.