William M. "Will" Dedman, 76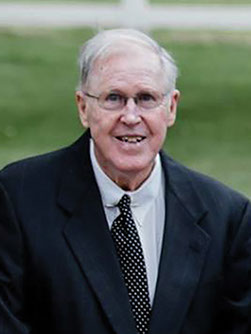 The American Saddlebred Horse Association (ASHA) is saddened to announce the passing of long time American Saddlebred owner, show manager and enthusiast William M. "Will" Dedman of Harrodsburg, Ky. Dedman passed away Friday, Sept. 14, 2018.
Born January 19, 1942, in Fayette Co., he was the son of the late Charles M. and Anne Hart (Milward) Dedman and husband of the late Ann Harriet Freeman Dedman. Dedman, an influential business man in the Mercer County community, was a member of the St. Philips Episcopal Church, a former member and Paul Harris Fellow of the Rotary Club of Harrodsburg, and had served on the Mercer Co. Fair Board and the Haggin Hospital Board.
Dedman will be best remembered by the American Saddlebred industry for his years managing the Mercer County Fair Harrordsburg Horse Show and his ownership of many World Champions such as CHUnattached (84436G), CHOlympic Flame (65987G), CHGreat Big Country (69303G), CHThe Crimson Flame E.L.F. (91392G), CHState of Shock (75993G). He had these and many other great American Saddlebreds that had success for decades under the training of great horsemen like the late Tom Moore. Most recently, Dedman was a devoted supporter of his granddaughter Alex Rudder, daughter Marie Dedman Rudder and son-in-law David Rudder in all of their American Saddlebred endeavors.
Dedman is survived by his one daughter, Marie (David) Rudder of Lexington; one son, Milward (Kathy) Dedman of Harrodsburg; three grandchildren, Ward Dedman, Cawood (Josh) Carey, and Alex Rudder; Special Caregivers, Loretta Claunch, Stephanie Sizemore, Diane Carey, and Melissa Mattingly. He was preceded in death by a brother, Charles Curry Dedman.
Funeral services were Tuesday, September 18, 2018, at the St. Philips Episcopal Church by Fr. Peter Doddema. Burial followed in the Spring Hill Cemetery, Harrodsburg. Memorials are suggested to: St. Phillips Episcopal Church, 131 Short Street, Harrodsburg, KY 40330.