Tommy Leon Richardson, 67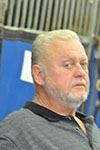 Tommy Leon Richardson - age 67 of Lenoir City, passed away Wednesday evening, December 31, 2014 at his home. He attended of Hickory Valley Baptist Church and was the owner of Richardson Stables. Leon was a member of ASHA, ETSA and a Hall of Fame member of the National Racking Horse Association. He was preceded in death by his parents, John and Lillie Novella Richardson. Survived by his wife, Deborah Richardson and son, Tommy Richardson.
The family will receive friends from 3 to 5 p.m. Saturday, January 3rd at Click Funeral Home in Lenoir City. Funeral services will follow at 5 p.m. with Rev. Charles Carpenter officiating. Family and friends will gather at 1:30 p.m. on Sunday at the funeral home and proceed to the Lenoir City Cemetery for 2 p.m. graveside services. In lieu of flowers, memorials may be made to the American Saddlebred Museum, 4083 Iron Works Parkway, Lexington, KY 40511.
Click Funeral Home, Lenoir City is in charge of arrangements.