Teresa Lynn Nolan Wallen, 59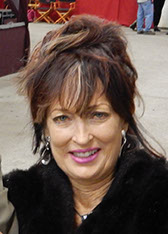 Teresa Lynn Nolan, 59, born in Rochester, passed away peacefully in her sleep on July 24, 2016.
She is survived by her mother, Nancy, and stepfather, John Brandrup, and her brother, Timothy.
She is a formerly recognized academic student from Rochester John Marshall High School and graduated in 1975 with honors. She graduated at the top of her class at the University of Minnesota with a degree in journalism following high school.
Teresa was married earlier this March to John Wallen, an avid horse enthusiast with many accolades in the horse profession himself. They married in Sparta, Mo.
Teresa grew up near Quarry Hill Park with her mother and dad, and brother Timothy. She attended Jefferson Elementary. Her family later moved and lived on property looking out over Silver Lake. She enjoyed watching her favorite cat, Tony, run as fast he could to try and get a paw on one of the hundreds of geese in the backyard down by the lake in the mornings for his exercise.
In recognition of her discipline in her studies, her father, Jim Nolan, accommodated her with the privileges of owning horses and showing them jumping or in gaited competitions. Hard work in school transferred into great results in the ring as she became well-known for excellence in showmanship in and out of the ring by judges and her peers.Teresa demonstrated a compelling interest in writing poetry, leaving her mark on many a soul with her touching and encapsulating verses.
Teresa will be remembered as the one who always remembered everyone else's birthday and gave everything she had, even when she had nothing. Heaven will be fortunate to receive such a gift. As the dove, you are now free. Sincerely, your family and all who love you.
A cremation service was held on August 13th in Sparta.