Susan M. LeVally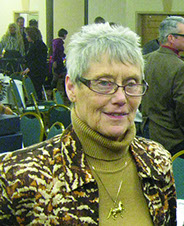 Posted: Thursday, January 22, 2015 4:34 pm
Susan M. LeVally, 73, of New Holland, Ohio died unexpectedly Wednesday, January 21, 2015, at 8:54 p.m. at Berger Hospital in Circleville where she had been a patient since Sunday.
Susan was born July 27, 1941, in Circleville, Ohio to George Francis and Leora Atkinson LeVally. She was 1959 graduate of Atlanta High School and lived most of her life in the New Holland community.
She worked for many years for Ophthalmologist Robert E. Quinn in Chillicothe. Upon his retirement she owned and operated LeVally Optical.
Susan's passion, from the age of 14, was training and showing American Saddlebred horses. She was a member of the United Professional Horsemen's Association, the American Saddlebred Horse Association and the Tri-State Horse Show Association. She developed numerous lasting friendships and many good friends through her association with the various horse shows. She will be greatly missed.
Susan attended the Atlanta United Methodist Church.
She was preceded in death by her parents and a brother, George W. LeVally.
Susan is survived by a sister, Joan Williams of New Holland; a brother, James D. LeVally and his wife, Carol, of Columbus and six nieces and nephews, Sharon Silcott, Leslie Backus, John D. Williams, Donte LeVally, Tony LeVally and Sonya Colley.
A memorial service will be held Tuesday, January 27, 2015, at 1 p.m. at the Atlanta United Methodist Church, 25960 State Route 207, with the Rev. Malcolm Buck, pastor at the church, officiating.
Memorial contributions may be made to the Atlanta United Methodist Church, c/o Mrs. Jerry Newton, 1345 Judas Road, New Holland, Ohio 43145.
Arrangements are under the direction of the Kirkpatrick Funeral Home in New Holland.
www.kirkpatrickfuneralhome.com