Scott Bennett, DVM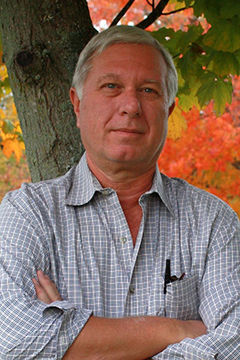 On Thursday, June 4th, 2020, Scott D. Bennett, DVM, loving husband, father, and son passed away at the age of 66.
Scott put his heart and soul into everything he did, demonstrating the skills of a natural-born leader very early in life. Originally, from Dayton, OH, his family later relocated to Lebanon, TN where he attended high school at Castle Heights Military Academy. As a cadet, he thrived in the military school environment. He shone as a student and athlete, graduating among the top of his class, excelling in football, basketball, and track. By the time he graduated, Scott had already acquired many college credits, and he was awarded the McFadden Scholarship. With that, he went on to begin his pre vet studies at the University of Tennessee.
At the age of 19, Scott was granted early admission to Ohio State Universitys School of Veterinary Medicine. While in vet school, he performed one of the first successful full hip replacement surgeries on a canine. Once recovered, the stray dog, Bojo, lived a long happy life with Scott's family in Tennessee.
In 1977, at the age of 23, Scott earned his DVM, thus becoming one of the youngest veterinarian's in the United States at the time. He remains among the youngest graduates in the history of the school's notoriously challenging academic program.
In 1982, Scott, now Dr. Scott Bennett, opened Equine Services, a 24-Hour ambulatory and equine surgical facility in Simpsonville, KY. Equine Services serves local, national, and international clients from nearly every segment of the equine industry.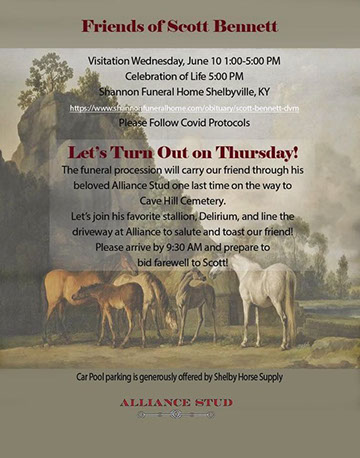 Over the last 40 years of practice, Scott's groundbreaking work in regenerative therapies such as treating lameness first with IRAP and then with stem cells, combined with his dedication and passion for his profession, fundamentally redefined the possibilities in equine veterinary medicine. When most veterinarians would be content with one specialty, Scott was a pioneer in equine embryo transfers.
Scott has also maintained a long-standing relationship with the Louisville Zoo where, in 1984, Scott successfully executed an inter-species embryo transfer, implanting a zebra embryo into a domestic horse.
Scott was recognized and honored as the recipient of several awards during his professional career. In 2009, Scott received the Sallie B. Wheeler UPHA Distinguished Service Award, which is presented to individuals who have dedicated themselves to the betterment of the show horse industry. Earlier this year, Scott received the General John B. Castleman Award for his lifelong work improving the lives, health, and performance of show horses, as well as his own passion for the breed and its development.
Scott was nominated by peer and fellow colleague Dr. Hugh Behling to The Foundation for the Horse "My Mentor Honor Wall" to acknowledge Scott's contributions in the career development of the many students, interns, and young veterinarians he worked with during his career.
Scott also founded Alliance Stud, a multifaceted breeding and training facility in Simpsonville, KY, where he raised many World's Champion American Saddlebred horses.
In his personal time, Scott found serenity exploring the Caribbean on a catamaran with his wife Linda. He experienced true peace of mind whenever he had the opportunity to unwind and unplug at his house in St. Lucia, always at his happiest when his son, Brennan, could join.
Scott is proceeded in death by his father. He is survived by his wife, son, and mother, and two very special English Bulldogs.
A Visitation will be held from 1 p.m. to 5 p.m. with a service to follow on Wednesday, June 10, 2020 at Shannon Funeral Service, 1124 Main Street, Shelbyville, Kentucky 40065. The burial is on June 11, 2020 at 11 a.m. at Cave Hill Cemetery in Louisville, Kentucky.
Expressions of sympathy may be sent to Saddlebred Rescue, Inc. (https://www.saddlebredrescue.com/) 6 Meadow Cliff Lane, Hardwick, NJ 07825.