Ronald Graham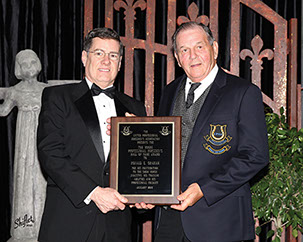 Ronald E. "Ronnie" Graham passed away on Tuesday, March 13, during the Gasparilla Charity Horse Show. The horse world mourns the loss of this talented trainer, astute ground man, and friend to all. The recipient of the 2015 UPHA Tom Moore Professional Horsemen's Hall of Fame Award, Ronnie was the first to lend a hand to those in need. Willing to don the most outlandish of costumes to entertain a crowd, he had a wonderful, self-deprecating sense of humor and nobody told a story better. With his trademark grin and twinkle in his eye, it was hard not to smile around him.
Ronnie was born on August 21, 1939 in Quinlan, Texas. As a young man he worked at the Mesquite Rodeo and Auction and spent time as a bull rider. He began his horse training career working for Tom Overly at Wildwood Farm, outside of Dallas, Texas. While in Texas, he worked with such luminaries as C. E. "Pep" Peppiatt, Lee Roby, Don Roby, Earl Dykes and Lee Shipman at farms including Nan-Dot and Barlite. He was instrumental in the Barlite dispersal as well as the dispersal sale of Dan Mize's Almarada Acres. Moving to Kentucky, he trained at Debbie Foley's Silver Brook Stable for several years. Ronnie opened his own farm in Kentucky, then relocated to New Jersey to work for Frank Gearhart. After Gearhart's death, Ronnie began an association with David and Doreen Weston's Smoke Hollow Farm, followed by stints at his own Freedom Stables in Pennsylvania and at Fish And Fun Farm in Virginia. In 2005, Ronnie relocated to Lutz, Florida to train with his long time best friend, Ruth Gimpel. Most recently, he was working at Pam Roush's Avalon Stable where, at age 79, he was still doing what he loved best - training, driving, and riding nice show horses.
He trained or showed over 250 world's champions in a variety of breeds, including American Saddlebreds, Standardbreds, Hackney ponies and Friesians. Some of the most notable would have to include world's and reserve world's champion Saddlebreds Beau Gallant's Babe, CH Dream Hill's Ann Thompson, CH Penny's Stonewall, CH Tanbark Romance, CH Suncatcher, CH Blue Chipper, CH Mr. Snuffleupagus, Nahema, Joe Friday and the Tango Dancer; Roadsters include Night Flight, Bomb's Echo and The Secret's Out; and Hackney ponies include Heartland Pursuit, Desert Prince and Mr. Brightside.
Ronnie was predeceased by a son, horse trainer Ralph Graham, and is survived by a daughter Ashley Karis. She is planning a memorial in his honor in the next few months in Frederick, Maryland, details to follow when finalized.