Charles "Redd" Crabtree, 79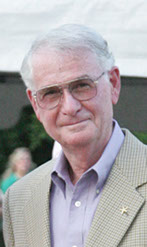 Charles "Redd" Crabtree passed away on January 19 at Baptist East Hospital in Louisville, Kentucky, after a brief illness. Redd and his wife, Nancy are the parents of three children, Casey, who is an assistant trainer at Crabtree Farm; Ann Crabtree; and Susan Fenton, in Simpsonville.
Redd was born in Aberdeen, Arkansas on September 5, 1935. The son of legendary and hall of fame trainers, Charles and Helen Crabtree, Redd was always enamored with the power and elegance of the American Saddlebred. He went by way of Arkansas to Rock Creek Riding Club when he first started his training career. He then apprenticed with Lee Roby in Tulsa, Oklahoma before becoming a manager/trainer on his own at the Tampa Yacht Club Stables. From there, he went to Blue Lakes Farm, then to the famous Plainview Farm in Louisville. Next stop was a manager/trainer position at Greystone Manor Farm in Lancaster, Pennsylvania, before returning to Crabtree Farms, Inc., in Simpsonville.
Redd was a rider, trainer, and breeder of American Saddlebred horses for more than 60 years. He was also a renowned teacher and judge, three-time winner of the World's Grand Championship for Five-Gaited Saddlebreds at Kentucky State Fair. Crabtree had been winner or trainer of every major Five-Gaited World's Championship division multiple times. A founder and former president of United Professional Horsemen's Association, he received a Lifetime Achievement Award from the American Saddlebred Horse Association, was a member of the UPHA Hall of Fame, and was inducted into the Kentucky State Fair Hall of Fame in 1993.
Redd became the first Saddle horse person to be inducted into the Kentucky Athletic Hall of Fame in June of 2014; an honor that was a long time coming. The list of horses handled by Crabtree is an endless list of champions that spreads some six decades. Redd's three Five-Gaited World's Grand Champions were WILL SHRIVER in 1975, CORA'S TIME in 1978 and 19 years later in 1997, ZORVOORBIJ COMMANDER IN CHIEF Just a small list of some other greats that Redd was affiliated with were ADMIRAL'S MARK, SUPREME HEIR, CALLAWAY'S BLUESMAN, MADISON BROWN, MANHATTAN SUPREME, CH BLUE CHIPPER, CH LIKE AN ADMIRAL, LEATHERWOOD STARLIGHT, SWISH, SUMMER MELODY, SANTANA LASS, WILL'S BULLETIN, and BANDSTAND to name a few. Redd won an unprecedented nine times in the stallion stake at Louisville with six different horses. He won the Rock Creek and Mercer County Fair and Horse Show's Five-Gaited Stake in 2014 with Martin Gueldner's EPIC HERO. He was also inducted into the Rock Creek Horse Show Hall of Fame in 2014.
It has been said by a knowing horseman, "Redd Crabtree is one of the best Five-Gaited trainers of today." When Redd was inducted into the Kentucky Athletic Hall of Fame this past June, he stated, "This is a great honor. I accept it on behalf of the many others who have been deserving. Hopefully this will open the doors for others." Many World's Champions of the future were bred and started at Crabtree Farm. Not many Saddlebred trainers today can claim the accomplishments of Redd Crabtree. He took the time to contribute his knowledge and talents to the horse business and was always available to help promote the industry. He will certainly be missed and the Saddlebred community has lost a legend!
Arrangements for Mr. Crabtree are as follows:
Visitation at Shannon's Funeral Home (1124 Main Street, Shelbyville) on Thursday from 4:00-8:00. Memorial Service at Simpsonville Baptist Church (7208 Shelbyville Road) on Friday with a visitation at 1:00: Funeral service to follow at 2:00. In lieu of flowers, contributions can me made to American Saddlebred Museum or charity of your choice.