Nancy Riester Crabtree, 74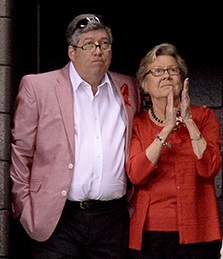 Nancy Riester Crabtree, 74, passed away Sunday November 29, 2015 in Louisville after battling a respiratory illness known as Idiopathic Pulmonary Fibrosis. Remembered for her special smile, Nancy was wholly dedicated to her family, community, church and their farm, Crabtree Stables.
As matriarch of the Crabtree family, she was preceded in death this past January by her husband, hall of fame trainer, Charles "Redd" Crabtree, as well as her parents, Paul and Martha Riester. Survivors include: daughters, Anne Crabtree and Susan Fenton, Simpsonville, KY; son, Casey Crabtree (Sabra), Simpsonville, KY; grandchildren, Rebecca and Tut Crabtree, Taylor and Katie Fenton; sisters, Martha Jean Downs (Jim), Billings, MT; Judy McCurdy (Ralph), LaGrange, GA; brothers, Paul "Bob" Riester, Jr., Ft. Lauderdale, FL, Vance Riester (Janice), Shelbyville, KY.
Nancy was very active in her community as a member of Simpsonville Baptist Church. She helped start the Shelbyville Community Theatre as well as the Shelbyville Horse Show, which she remained an active and dominant presense through the years. She was also a member of the Garden Club and Al-Anon.
Her list of friends was endless, both in and out of the horse world.
A memorial service will be held 2:00 p.m. Thursday December 3, 2015 at Shannon Funeral Home with the Rev. Steve Boyd officiating. Visitation will be from 5-8 p.m. Wednesday at Shannon Funeral Home. Expressions of Sympathy may be made to: Shelbyville Community Theatre, 801 Main Street, Shelbyville, KY 40065.