Mary Jane Pidgeon Sledge
Mary Jane Pidgeon Sledge passed away Christmas Day after years of enduring the complications of Multiple Sclerosis. Her death marks the end of an era: understated elegance and selfless determination seamlessly blended into a feisty wit and undying devotion to her family, church and community. She was a genuine steel magnolia with the deepest of roots and far reaching influence that will affect many for decades to come.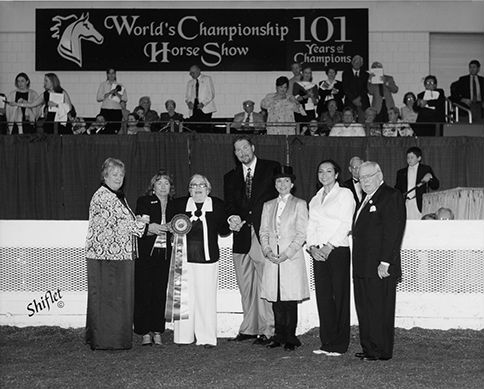 She leaves behind daughters, Mary Phillipa Sledge and Nell Sledge Puls, son-in-law, Jack Puls and granddaughter, Mary Nell Betancourt. She was predeceased by her husband, William Ruffin Sledge and her parents, Phillip David Pidgeon and Mary Jane Wilkerson Pidgeon. The Pidgeon family has played an important role in the development of Memphis since it arrived here from Ireland in the 1840's. Her grandfather, James C. Pidgeon, bought the Coca-Cola Bottling Company of Memphis in 1909. The family owned Magnolia Farms, (now Pidgeon Estates) which owned, bred and exhibited world class American Saddlebreds, such as 1947 World's Grand Champion Three-Gaited Nellie Pidgeon and was home to prominent breeding sires.
A fierce competitor and for years undefeated, Mary Jane captured hundreds of national titles spanning all major Saddlebred divisions from her early childhood on. She established her own iconic legacy creating Pidgeon Roost Farm with national and world grand champions including Yes It's True-2001 World's Grand Champion Three Gaited, Americana's Jazzman, Lady Periana, Prize Contender and Undulata's High Society.
She was inducted into the Kentucky State Fair Hall of Fame in 2004, the same year that NATIONAL HORSEMAN magazine called her "The First Lady of Walk-Trots". The American Saddlebred Horse Association honored her with The Lurline Roth Sportsmanship Award in tribute to her selfless participation. Mrs. Sledge was Queen of the Grand Krewe of Osiris in 1947, a member of the Memphis Country Club, a sustaining member of LeBonheur, a former member of the Junior League of Memphis and a life-long parishioner of St. Anne's Church on Highland. She was a charter supporter of the Germantown Charity Horse Show as well as a lifetime member of the United States Equestrian Federation, the American Saddlebred Horse Association and the American Saddlebred Museum in Lexington, KY. She was an avid and knowledgeable collector of fine French biblots and antiques.
Visitation will be 4 to 6 p.m. on Monday, December 30th at Canale Funeral Directors, 2700 Union Avenue Extended, with a Rosary to follow at 6 p.m. A Mass of Christian Burial will be celebrated at 10 a.m. on Tuesday, December 31st at St. Anne's Catholic Church, 706 S. Highland, with burial to follow in Calvary Cemetery. In lieu of flowers, donations may be made to: The Multiple Sclerosis Fund at the Community Foundation of Memphis, 1900 Union Avenue, Memphis or The Shelby County Humane Society, 400 Hudson Blvd. Shelbyville, KY 40065.