AMERICAN SADDLEBRED WORLD LOSES MARK OF DESIGN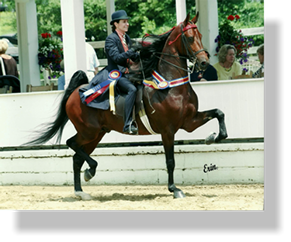 On Saturday, Feb. 22, 2014, Mark of Design died of complications of castration. He was owned, trained and shown by Lisa Worrell Whittle of Imagemaker Farm, Hillsville, VA, in the VA/NC show circuit. Mark had notable wins in the Fine Harness, Park and Five-Gaited divisions at such shows as Roanoke, Asheville, Blowing Rock, Raleigh, etc. He sired the Junior and Open Fine Harness Champion at Roanoke 2013, My Lovely Lady.
After castration, Mark was in the process of being sold to Kenny and Ceil Wheeler of Keswick, VA for their 16 year-old daughter, Catherine, for the juvenile five-gaited division. Smith Lilly of Mercer Springs Farm served as agent for the Wheelers. All involved were devastated by the loss.
Mark was the culmination of years of work, breeding study, acquired training skills, and a successful show career. He lifted owner, Lisa Whittle into the ranks of being able to successfully compete at anybody's horse show.
"I can honestly say he was the most fun horse I have ever had. The thrill of the sale and the potential world title, added the to the achievements, that I had only dreamed about, now just within reach. The death of my magnificent horse brought the dream to a shocking end. The fall, from the heights of which I had spent years climbing, was nothing less than shattering. It was a tragic loss of epic proportions from which I am still recovering. In my heart, I couldn't care less about the money; in reality, it was a hard blow to my horse enterprise."
"To my friends that shared my shock and pain, thank you; alone it was more than I could bear. To my vets, thank you for Mark's care and laying him to rest at my farm; we have become family. To my neighbors with a backhoe, thank you, for he couldn't be laid to rest without you. To my husband, Tom and my son, Ben, thank you for your support and understanding. To others that have shared in our disbelief of such a tragedy, thank you for your sympathy, it really does lighten a heavy heart. To Catherine, I'm sorry I was unable to deliver to you a new horse. To me, the most closure came when I realized, I was the 16 year-old girl, living my dream and having the time of my life. I love you Mark and will miss you. And thank you God for sending him to me in the first place, the only first place that really matters." said owner, Lisa Whittle.
If you have anything to share, Lisa Whittle has set up an email especially for Mark. lisasmarkofdesign@gmail.com. Pictures of Mark can be seen on www.imagemakerfarm.com.