Lynn Via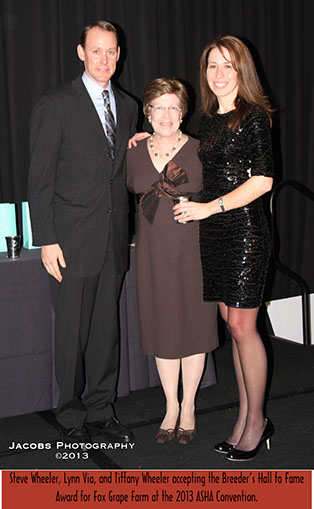 The matriarch of Fox Grape Farm, Lynn Via passed away the morning of (May 12) following her battle with cancer. The Roanoke,VA. resident, along with her husband Peter and her daughter, Dr. Owen Weaver, had been a longtime Saddlebred enthusiast. She was also an avid supporter of both the UPHA and the ASHA, having been honored by both associations. Via was the recipient of the UPHA Sallie B. Wheeler Distinguished Service Award and the UPHA Associate Of The Year at the 2008 UPHA Convention. ASHA had honored her with the Breeders Hall of Fame just a few years ago.
Some of the greats owned by the family have included World's Champion CH Kalarama's New Sensation, World's Champion CH My Chanel, World's Champion CH Himalaya, World's Grand Champion CH Callaway's Forecaster, two-time Five-Gaited World's Grand Champion CH Garland's Dream and six-time Fine Harness World's Grand Champion CH Callaway's Copyright. She most recently cheered her daughter Owen and three-time World's Grand Champion CH Courageous Lord to the World's Champion Of Champions Amateur Five-Gaited title.
Additionally, Lynn has overseen the Fox Grape breeding program standing such world's champion producing stallions as Deep Blue and Dorian Wild Temper. CH Fox Grape's Dauntless, Fox Grape's The Tiger Lily, A Rare Temper and Fox Grape's Sierra Madre are but a few of the world class homebreds currently starring in the show ring.