Leonard A. King, Jr.
Contributed by Devon President Richard M. O'Donnell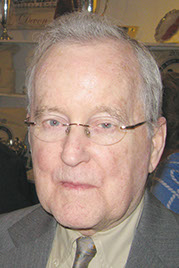 The Devon Horse Show and Country Fair community is deeply saddened by the passing of its Chairman Emeritus, Leonard A. King Jr., 83, of Malvern, PA on February 2, 2015. Leonard was a long time respected member of the Devon Horse Show and Country Fair Association.
Leonard devoted over half of his life to Devon and led the organization, first as President from 1995 to 2005, and then as Chairman from 2005 to 2012.  He was a true gentleman, a leader in the equestrian world, an accomplished artist and poet, and a friend and mentor who was always ready to share advice, a joke, or one of his famous stories.
"Leonard King meant so many wonderful things to our event," said President Richard M. O'Donnell. "He led our organization to important, new heights and kept a steady direction during times of immense change".  He became chairman following the retirement of Richard McDevitt. Both men were futuristic and contributed greatly to the changes made at Devon.
Leonard's legacy at Devon is felt in many ways. He was known for his diplomacy and ability to connect with people. Leonard was particularly proud of implementing the Directors Executive Committee in 1996, uniting the organization by bringing six members from the Horse Show Executive Committee, and six members from the Country Fair Executive Committee to act as the governing body of Devon.  This cooperative era laid the groundwork for the current organizational structure that took effect in 2014.
Leonard's roots run deep in in the Philadelphia area. He grew up in a row house in Chester, PA just outside of Philadelphia. He graduated from the University of Pennsylvania where he perfected a talent for painting, leading to numerous exhibitions of his works, most featuring scenes of his beloved Chester County. He was an avid foxhunter, having received his first pony at the age of 12, with both the Rose Tree Hunt and The Radnor Hunt. It was in the hunt field that he met Pat, his wife of 47 years and an accomplished hunter rider and Devon competitor.
Few have contributed more to the development and growth of the show jumping industry than Leonard King. Much of his 40-year career was dedicated to bringing the sport of show jumping to the popularity it holds today. Leonard was one of the founding members of the American Grand Prix Association in 1978 and remained its President through 1999.  He was co-founder, with his great friend Harry Gill, of The American Gold Cup. He co-managed and produced The Philadelphia Horse Show, The Baltimore Jumper Classic, The Valley Forge Grand Prix and the inaugural FEI World Cup in the United States in Baltimore, MD. In 2010, he was inducted into the Show Jumping Hall of Fame.  Leonard was also a respected judge, officiating at some of the largest shows in the country. While he was generally more closely associated with the hunter-jumper community, he had a close interest for the Saddlebred and coaching exhibitors as well.
In 2012, he was awarded the inaugural Moran Family Award, which recognizes excellence in the equestrian industry. Donated by Caroline Moran and her family, the award recognized Leonard as the "Face of Devon." It is a face, and a man, that will be deeply mourned and missed by his entire Devon family.
Although small in stature, he stood tall amidst the equestrian community. He will be greatly missed at Devon, where he would sit on the "Craven" bench just outside the horse show office, smiling and greeting all that passed by, as well as at lunch in the turn club on the grounds with exhibitors and members of the Devon Horse Show board.
Leonard was preceded in death by his wife Carol A. "Pat" King. He is survived by a stepdaughter, Patricia W. Fox and two grandsons.
Per his request, there was no funeral or memorial service. Contributions may be made to the Devon Horse Show and Country Fair Foundation, Box 865, Devon, PA 19333.