Larry Vincent Gilpin, 71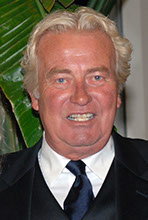 Southern gentleman, cowboy, snappy dresser, maverick, coach, world traveler, artist, UK Wildcat basketball devotee, sport car enthusiast and oldies & country tunes lover. Born September 8, 1943 in Benton, Illinois (raised there and Horse Cave, Kentucky), died January 1, 2015.
He is survived by his amazing soulmate of 49 years, Daryl "dude" Gilpin and loving children, Valory, Lana, Scott, Lorra (Brett), beautiful grandchildren: Skye, Sam, Sommer, McCullough, Lucas, Ivey, Dylan, Beau, Anabelle and Gabriella and sweet great grandchild, Leo. Also survived by brother, Terry Gilpin, nieces Alexandra (Anthony), Elise (Stephen), sister-in-law, Neila Darnaby, niece Liz (Kent) and Benjamin (Shorie). Larry's priorities were his family, his career and his horse business. Larry was a devoted, loving father, grandfather, coach and mentor to his family and friends.
He spent 23 years at Target Corporation and was probably best known for "Fast, Fun and Friendly". Larry served on several boards such as the Courage Center and UPHA Associate President.
One of Larry's greatest passions was LVG Stables, his Saddlebred horse business. His amazing life will be honored at a celebration Saturday, May 30th from 4-7pm at Larry and Daryl's home, highlighting his humble beginnings to renowned success, from the corporate world to personal achievements. His family hopes that those of you that loved him will come to celebrate the one and only Larry Vincent Gilpin. His accomplishments were many, his regrets were few.