Larry Carver, 81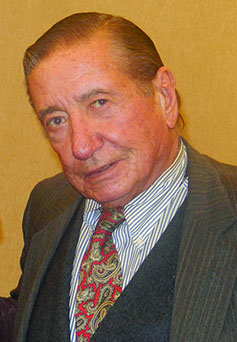 Larry Carver, 81, passed away Saturday, February 25, 2017. Larry was born June 30, 1935, in Minford, Ohio to Ora and Carrie Carver. He was a 1953 graduate of Minford High School and attended undergraduate and law school at the University of Kentucky.
He was Chief Tax Counsel for Ashland, Inc. and litigated cases in nearly all fifty states. He also won a case in the United States Supreme Court, a fact he was always proud of. In 1992, he retired and began to run his horse farm full time.
He has been involved in horses from the time he was a small child. He rode on the backs of the draft horses on his family farm and later graduated to jumping horses. In the early 1960's, he won the Open Jumper Championship in the Tri-State Horse Show Association with his mare Shenandoah. Larry was an avid supporter of horse shows in the Tri-State Area; he attended the very first Portsmouth Horse Show in 1949, the last one in 1999, and many, many in between. He met his wife, Karen, at the Huntington, WV Horse Show at the age of twenty-two.
​Larry and Karen began their legacy of raising American Saddlebred Horses on their farm in Greenup County, KY. Later, in 1990, they moved to Hundred Acre Wood Farm in Catlettsburg, KY. They raised two decades of champion horses, and the bloodline they created survives today through descendants of their foundation stallions.
​ He had many friends within the horse show circuit and was well-loved by everyone he knew. He was a fixture at horse shows and was always quite popular; friends would flock to the barn after the show to sit a spell and drink a beer with him. Many a horse show night was spent spinning yarns and cracking irreverent jokes with his horse show family. He was a lifetime member of the Kentucky Bar Association, and a member of the American Saddlebred Horse Association, the Tri State Horse Show Association, the Central Kentucky Horse Show Association, and the United Professional Horsemen's Association.
​He is preceded in death by his parents. He is survived by his wife, Karen Carver; two sisters, Jane Rannells and Nadine Carver; three children, Laurin Carver Noe, Kelly Carver, and Lance Carver; and three grandchildren, Carver Koella, Annabel Noe, and Dennis Carver.
Larry wished to be cremated. A visitation and Celebration of Life was held at the Ashland Elks Club on Saturday, March 4, 2017. In lieu of flowers, donations can be made to the Ashland Elks Thanksgiving & Christmas Dinner Fund, to 900 Carter Avenue, Ashland, KY 41101 or the Tri State Horse Shows Association Scholarship Fund, to 7502 Ridgeway Court, Ashland, KY 41102, or on www.tshsa.com by selecting the "Donate" button.