LaMerle York Skipton, 80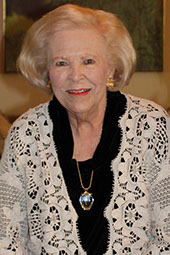 LaMerle York Skipton, age 80, mother of longtime Saddlebred exhibitor and American Saddlebred Museum Curator Kim Skipton, passed away on Friday, July 8, 2016 in Houston, Texas.
LaMerle and husband James K. Skipton, Jr. owned Texas Fire & Safety, Inc., with locations throughout Texas. A devoted wife and mother, she served tirelessly for the Kinkaid and Briarwood Schools, the Houston Figure Skating Club, and the Houston Pi Phi Mother's Club. She was a long time president of the Houston Junior Forum and was instrumental in the establishment of the Brookwood Community, a residential and entrepreneurial community for adults with special needs. LaMerle's philanthropic efforts led her to be an early supporter of the Pin Oak Charity Horse Show and the Texas American Saddlebred Horse Association. She attended horse shows across the country from the 1960s to the early 2000s and enjoyed watching Kim show under the S & S Venture Farm and Texas Fire & Safety banners, particularly with LaMerle's personal favorites Spencer County and Bomb's Echo.
She was predeceased by her husband of 54 years, Jimmy; her parents W.D. and Patricia York; and brothers Dell York, Jr. and Ronnie York. In addition to eldest daughter Kim, LaMerle leaves behind three daughters and one son, as well as seven grandchildren. The family is grateful for the wonderful care provided by the staff of The Forum at Memorial Woods, especially Madeline Goldsmith.
In lieu of flowers, remembrances may be made to the American Saddlebred Museum, 4083 Iron Works Parkway, Lexington, KY, 40511.