Joyce Harris Ockerman, 93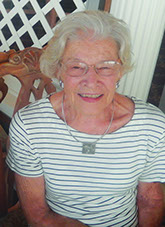 Joyce Harris Ockerman, 93, wife of Foster Ockerman for sixty-nine years, died on October 13, 2019, in Lexington. She was born in Lexington on May 8, 1926, elder daughter of the late William Jefferson Harris and Louise Hornsby Harris, and was proud of living in Lexington her entire life. She was preceded in death by her sister, Barbara Harris Myers. Mrs. Ockerman graduated from Henry Clay High School, attended Randolph Macon Woman's College in Virginia, and graduated from the University of Kentucky.
In her youth, she showed American Saddlebred horses throughout Kentucky and the United States and was recognized as one of the outstanding equitation riders of her time. Mrs. Ockerman was featured in the Junior League Anniversary Exhibit at the American Saddlebred Museum, which is still on display at the Kentucky Horse Park. She wrote and published a book about her and her family's experiences and successes entitled Horses and Horse Shows in 2014. She was also the author of three cookbooks.
Mrs. Ockerman at her death was a member of the First United Methodist Church (Lexington), the Junior League of Lexington, Chi Omega Sorority, Lexington Country Club and the Keeneland Association, and a board member and former officer of the Orphans Society of Lexington. Active in many organizations, she served as President of the Junior League of Lexington and was Chairman of the Junior League Horse Show, making her the only person ever to have been both a Horse Show exhibitor and to have served in both of those offices. She was also on the board of The Association of Junior Leagues as Director of Region XI and was President of the Blue Grass Trust for Historic Preservation.
Mrs. Ockerman served on many community boards including Regional Mental Health-Mental Retardation, the Florence Crittenton Home, Opportunity Workshop, Blue Grass Charity Ball, Baby Health Services, the Living Arts and Sciences Center, Lexington-Fayette Council on Family Relations, the American Cancer Society, and more. She served by appointment of Gov. Wallace Wilkinson on the Kentucky Literacy Commission. Her most recent board positions included Ashland Terrace Retirement Home and the Advisory Board of the Blue Grass Trust.
In addition to her husband, she is survived by two sons, Foster Ockerman, Jr. (Martina), Lexington, and Jefferson Harris Ockerman, Nashville, and one daughter, Ann Ockerman Baughn (Philip), Santa Rosa Beach, Florida; four grandchildren, Hannah Ockerman Helsby (Mike) and Katrina Chace Ockerman, both of Lexington, John Foster Ockerman (Kate), Richmond, Va., and Dr. Elizabeth (E-beth) Aston Ockerman Hubbard (Matthew), Durham, N.C.; and four greatgrandchildren, Michael Foster Helsby and Livy Ruth Helsby, Lexington, and Foster William Ockerman and Elizabeth Wren Ockerman, Richmond, Va. She is also survived by a niece, Patricia Meredith Myers, Nashville, and two nephews, Carlisle Harris Myers (Regina), Mt. Pleasant, S. C., and Gregory Bowman Myers, Hamilton, MT. Visitation was Oct. 23, 2019, 4-7 PM and Services were Oct. 24, 2019, 11:30 AM, Milward-Man O' War, 1509 Trent Blvd., followed by private Inturnment at the Lexington Cemetery. Contributions may be made to the Lexington History Museum, Inc., or The Kentucky Horse Park Foundation.