Jim Ruwoldt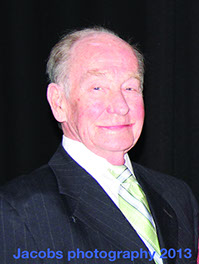 Born in 1930 in Detroit, Michigan, Jim Ruwoldt was a highly respected businessman and lover of all things American Saddlebred. Early in his career he worked for the Jam Handy Organization for 20 years before becoming an independent producer of business communication. In 1972, he joined the Coca-Cola Company and was promoted to vice-president of creative services. He oversaw all worldwide business meetings, conventions and special events, including the Olympics.
A longtime resident of Roswell, Georgia, Ruwoldt was an original member of the board of directors that founded the Southeastern Charity Horse Show and a long-serving member of the American Saddlebred Horse Association of Georgia. Ruwoldt has been involved with the American Saddlebred for more than 45 years, serving as manager of the Southeastern Charity Show for 25 years, in addition to serving on the board of the American Saddlebred Horse Association (ASHA) as its treasurer and on the board of the American Saddlebred Museum as its secretary. Always giving back when called upon, Ruwoldt spent time on the board of the American Saddlebred Registry as well.
During his time in the horse business with his family Ruwoldt was the man behind the scenes as Joan Lurie's partner at Willowbank where the nation's leading sires have stood for decades.
For his many contributions to the American Saddlebred, Ruwoldt was recognized by the ASHA in 2013 with the Lifetime Achievement Award and just a few weeks ago at The Super Convention he and Lurie were recognized as the ASHA Breeders of the Year.
Ruwoldt was married to his wife Bonnie for nearly 60 years and they have two daughters, Cindy and Kathy. In addition to his corporate and equine endeavors he volunteered his time on the board for the Georgia Special Olympics, the board of the Tommy Nobis Center, a development center for disabled adults, and on the advisory committee to the Northside School of Performing Arts.
"The recent passing of Jim Ruwoldt was a great loss to the American Saddlebred community," said ASHA President Bob Funkhouser. "His dedication to the ASHA of Georgia and the Southeastern Charity Horse Show is legendary and what he brought to the national level through his work on the ASHA and ASR boards is something I'll never forget."
"So sorry to hear about the passing of our former American Saddlebred Horse Association Treasurer and Board member, Jim Ruwoldt," said ASHA Executive Director Bill Whitley. "He was truly one of the most influential people in the corporate world and the American Saddlebred Horse breeders' community. Many of Jim's collaborative efforts between the ASHA and ASR are what we all enjoy today. Our heartfelt condolences go to Bonnie, Kathy and Cindy."