James Wilson Aikman
James Wilson Aikman who was born in Washington, Indiana on January 23, 1929, died peacefully on June 29, 2020 in the comfort of his own home with family and friends by his side. He was the only child of George Vincent Aikman and Marcella Lucille Smith Aikman (both deceased). After the family moved to Indianapolis in the Great Depression, he graduated from Franklin Township High School in 1946. He attended Indiana University and then enlisted in the Air Force in 1952. Having received what he considered his most treasured award of his life, The American Spirit Medal of Honor, he was honorably discharged in 1954.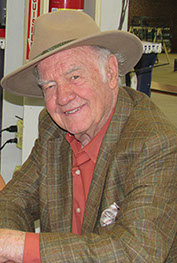 Upon his return to Indiana, he joined the family business, G.V. Aikman Company, designing and providing commercial food service equipment to facilities all over the world. He was the proprietor of Hide-A-Way Farms and over the course of his life raised, trained and showed 24 World Champion American Saddlebred Horses. From 1966 to 1989 he was a Board Member of the American Saddlebred Association serving as President from 1980 to 1983. Upon retiring from the business world, he carried his business knowledge and love of horses forward to establish the All American Cup in 2003 to forge the growth of the American Saddlebred Industry. Among the many acknowledgments of his contributions to the breed, he was the recipient of the 1989 CJ Cronan Sportsmanship Award, 2006 ASHA Lifetime Achievement Award, and 2016 ASHA Meritorious Service Award.
He loved life and believed in hard work and the determined pursuit of dreams. He was "THE" best. He is survived by his son, James Whitton Aikman; daughter, Jennifer Dianne Thomas-Adams (Joel); and seven grandchildren, Hania, Elise (Agustin), Cambrian, Joshua, Emilela, Grance and Aliana; and one great-grandchild, Solaris James. He is also survived by his "stepson", John Hale; and numerous devoted and cherished friends. Services will be held at a later date due to the pandemic. In lieu of flowers, please consider a donation to the American Saddlebred Horse Museum, 4083 Iron Works Parkway, Lexington, KY 40511 and/or the charity of your choice. Final care and arrangements are entrusted to Shirley Brothers Washington Memorial Chapel.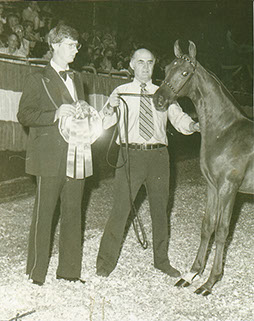 The following is from the Jim Aikman page on the All American Cup website.
The Aikman family founded Hide-A-Way Farms. Hide-A-Way Farms is on the S.E. quadrant of Indianapolis near the small community of Acton.  In 1941, George and Marcella bought Jim his very first American Saddlebred horse.

Jim entered Pre Vet at Indiana University - 1946.  He became a professional horse trainer in 1950.  Many horses were probably "saved" because of the Korean War, when Jim was called to service.  While in the Air Force, he received his most treasured award - The American Spirit Medal of Honor.  Jim was Honorably Discharged in 1954 - and entered the family business - designing and providing Commercial Food Service facilities all over the world. He is a workaholic and not proud of it, made quite a bit of money so he could have horses. - Partnered and built one of the finest and largest fine dining restaurants in the Midwest - Lost a lot of money.

Mr. Aikman stood some decent stallions at Hide-A-Way - Cameo Kirby, (Sire of The Lemon Drop Kid), Ridgefield Denmark, Firefly Supreme, and the last stallion he owned, "Wild Country" perished in a fire in 1988.  He also raised and trained a few World Champions.

Starting in 1966 thru 1989, Jim served 23 years on the Board of the American Saddlebred Horse Assn. and in 1980 thru 1983, he was coerced into the ASHA Presidency by Mr. C.J. Cronan and Tom Morton.  Jim brought in a new and active board. - A lot of people made a lot of good things happen.  Changed the name of the Assn.  Changed from a "stock" corporation to an open membership, and moved the Assn. and Museum from Louisville to the Kentucky Horse Park in Lexington.

In 1997, Jim Aikman "thought" he would retire at 68 years, so he sold the "Aikman Co."  He tried "fishing" - that didn't work - too boring.  Took up "Golf" - lasted 30 days - too bad at it . . . . He decided to continue training colts - and share 50 years of his experience just teaching people - "Loves every minute of it".

Some of Jim's favorite expressions and philosophies are, "Timing is everything" or "A blind sow gets an acorn every once in awhile."  Now there is one expression he's tired of hearing, "We ought to. . ." and only a few people do anything - Who is "we"?  It takes a unified army to establish a victory.  From Jim's heart comes his philosophy on the importance of The Maternal Influence, he even published a small book on the subject.

Jim forged into the "21st" century with ideas for the growth of the American Saddlebred Industry.  In 2002, one of those ideas would become the most challenging, frustrating and labor intensive endeavor of his life - 18 hour days - seven days a week and lots of his own money too . . . but Aikman only thinks one way,  "Win Big !."  With that thinking, the ALL AMERICAN CUP has grown into the largest paying event in American Saddlebred History.

So,  Four years pass.  It is October 2006 and he realizes that there are about 6 hours remaining, so he has taken on another project that has been one of those "We ought to . . ."  Jim began interviewing every horse Owner,    Trainer, Breeder with his camcorder that he could get to sit still.  The endeavor is called "Jim Aikman Interviews...." and they are becoming quite the collectors item.

The ALL AMERICAN CUP has grown by leaps and bounds and Jim is still going strong. . . . he loves his family, Jim has a son, James W. Aikman, a Doctor of Music Composition, a composer of classical and popular music and he has his own website (www.aikmanmusic.com).  James has 3 children and they all reside in Michigan.

Jim has a daughter, Jennifer who graduated from one of the largest schools in Indiana as Valedictorian.  She attended Oberlin College to be a Pediatrician.  Contracted Encephalomyelitis causing vision problems ending that intended career.  When well, returned to school where she became a Rhodes Scholar candidate. She married Joel who was a Rhode's Scholar recipient and they have 4 children and reside in Massachuetts.