Jeanne Siemon, 91
SIEMON, Jeanne E. age 91, of Springfield, went to be with her Lord and Savior on Saturday, January 18, 2014 at South Brook Care Center. She was born on August 23, 1922 to the late McCurdy and Mildred (Sopp) Smith in Ligonier, Pennsylvania.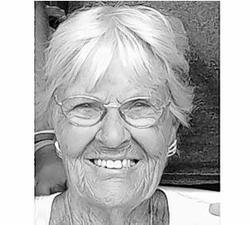 In addition to her parents, Jeanne is preceded in death by her beloved husband of 68 years, Charles P. Siemon Sr.; a son Keith Siemon; a granddaughter, Christy Ann Breedlove; a brother, Robert Smith as well as a son-in-law, Doug Baker.
She leaves her children behind to cherish her memory: Charles (Lu Ann) Siemon Jr., Brian (Andi) Siemon, Drew Siemon, Mark (Laura) Siemon, Sandi (Eldon) Holton, Vicki (Kenneth) Webb and Lori Baker; daughter-in-law, Beckie Siemon; 19 Grandchildren and 24 Great-Grandchildren.
Jeanne attended First Christian Church in Springfield. She was a lifelong equestrian and was inducted in the Shriner's Dayton Horse Show Hall of Fame for 50 years of loyalty and participation. Jeanne was an avid sports fan.
A visitation will be held on Friday, January 24, 2014 from 10:00 a.m. to 12:00 p.m. at Jackson Lytle & Lewis Life Celebration Center with the funeral immediately following at 12:00 noon with Pastor Grant Edwards officiating. Entombment at Rose Hill Burial Park.
In lieu of flowers, memorial contributions may be made to the Nehemiah Foundation in Jeanne's honor. Condolences may be forwarded to the family by visiting www.jacksonlytle.com -