Jack Schatzberg, 96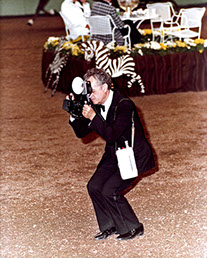 Jacob (Jack) Schatzberg, a pioneer in the equine photography industry, passed away peacefully November 28th at nearly 97 years young. Jack was born in New York City December 1st, 1922. He served in the army air corps as a young man. During that time, he met his wife, Jackie. Upon leaving the service, he returned to New York to start his family and pursue a variety of careers including taking portraits of mothers and their young children.
His photography career would take a turn towards the equine industry when two of his daughters began to take riding lessons at a local stable. He began to take pictures at their horse shows and thus began a life long career. Jack was the first Equine Photographer to offer a mobile lab onsite at horse shows, allowing exhibitors to view and order their proofs onsite. His repertoire of horse shows would grow to include The National Horse Show at Madison Square Garden, The American Royal, The Ohio State Fair, Pin Oak, A to Z, Santa Barbara, Germantown, The National Western Stock Show, The Morgan Grand National as well as many others including a horse show in Israel!
The father of five employed all of his children and one point or another and his son, Howie as well as grandson, Casey, would go on to create successful equine photography businesses of their own.
Jack loved the travel that his work afforded him and kept a busy schedule well into his 90's. He continued to enjoy attending horse shows, visiting with his friends, eating out and telling stories until just recently. His larger than life personality will be missed as he never failed to make an impression, good, bad or indifferent.
Jack was pre-deceased by his son, Kenny, and his wife, Jackie, and is survived by his children, Joyce (husband Bob), Terry (husband Ken), Sue (husband Greg), and Howie (wife Megan), daughter in law Kathy, as well as his 11 grandchildren and 13 great grandchildren.
In lieu of flowers the family would appreciate contributions to be made to The UPHA Foundation's Dewey Henderson Benevolent Fund Trust 4059 Iron Works Parkway Suite 2 Lexington, KY 40511.