Harry Donald Binkley, 88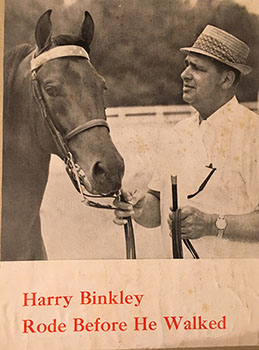 Harry Donald Binkley, 88 of Reisterstown, Maryland passed away peacefully, Sunday, January 17, 2016. He was preceded by his lovely wife Jean who passed away in 2012. He is survived by his children Marc Binkley, Lori Binkley Quinn and Todd Binkley; his grandchildren Oliver Quinn, Hunter Quinn, Ashley Binkley and Tara Binkley; and six great-grandchildren.
Not many people know when they are very young what their life's occupation is going to be; however, Harry, born November 21, 1927 in Lititz, PA, did. From a very young age he knew he wanted to be a "horse trainer" and from that time to 2008 when he finally closed the barn door he remained, day after day, a "horse trainer". When you were around Harry it was easy to see and understand that he had a special way with horses. The story goes he rode before he could walk.
Being a young accomplished rider he had the opportunity to show horses for other horse owners in his area. As Pennsylvania State Champion Equitation Rider, he was eligible for the finals at Madison Square Garden. At the age of 16 he traveled by bus to Baltimore, MD where he met with Mr. Russel Law who was owner of Boxwood Manor Stables, Towson, MD. It was a successful team as within a year, Harry was head trainer with top horses such as Gallant American, Band Box Ben, a top three-gaited amateur horse and Miss Mary, a top junior mare. Harry always credited his success to the guidance he received from Mr. Law.
Harry went on to work for A. D. Anderson, a Baltimore businessman, owner of Rolling Hills Farm, Catonsville, MD. There he trained and showed many champions, one of them being Baltimore Clipper. Baltimore Clipper, shown many times at the "Garden" was one of his favorite horses.
Working hard and with his continual drive to move forward, he and his wife Jean built the beautiful Wood Gait Farm in Reisterstown, Maryland. With an 80 stall barn on fifty acres, he, along with Jean and family, were able to develop a program that included, not only the show horses, but also a strong lesson program and camp that was well known in the Reisterstown area. He was very supportive of his staff and they in turn were very devoted to him. Many worked for him for years. Again the story goes Harry personally made "egg sandwiches" for the help every morning.
Showing all up and down the east coast, Massachusetts to the Carolinas, along with PA, Ohio and Kentucky and Georgia, Harry Binkley and Wood Gait Farm, Reisterstown, MD became synonymous with winners in the Saddlebred, Morgan, Arabian, and show pony arena.
With many top horses over the years the one closest to him and the one so often talked about by others was his five gaited stallion Park Avenue Playboy, "Playboy", a three time National Five Gaited Champion.
Another was Santana Sweet Masquerade who he first showed at Devon and won the Three Year Old Fine Harness class. She was sold to Dr. Gene Scott and later that summer, shown as Coco, won the Three Year Old Fine Harness class at the Kentucky State Fair.
Harry - trainer, showman, breeder, businessman, recognized senior judge was, also, a member of UPHA. He served as president of his region and in 1988 he received the Horseman of the Year Award.
In 1993, Harry received a Lifetime Achievement Award from the Maryland Saddlebred Futurity Committee. Along with that, he received an award from then Governor of Maryland recognizing him as a leader and successful promoter of horse industry in the State of Maryland.
In 2005 a Walk of Honor brick was presented to him by many of his longtime customers and in 2012 he received a Life Time Trainer's Award from the Quentin Horse Show, Quentin, PA.