Grover Gilpin, 96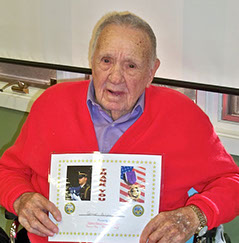 A man involved in the founding years of the Kentucky Association of Fairs and Horse Shows is dead at the age of 96.
Grover C. Gilpin of Columbia (Adair County Fair) died today (Tuesday 4-15-14) at Summit Manor Health and Rehab in Columbia.
Grover was president of KAFHS in 1955, only 7 years after the formation of the statewide fair organization. He was active for many years and served on a number of different committees.
Aside from his involvement in the Adair County Fair and the KAFHS, he was a member of the Columbia United Methodist Church, a United States Army Veteran serving during WWII, a retired farmer, a life member of V.F.W. Post 6097, a member of Columbia Lodge #96, a member and former chairman of the Adair County Democratic Party and a member of the Adair County Livestock Association.
He is survived by a son, a daughter and two nieces.
Funeral services will be held Thursday, April 17 at 11 a.m. (CDT) at Grissom-Martin Funeral Home in Columbia with burial in the Haven Hill Cemetery.
The family has asked that expression of sympathy be in the form of a donation to Lindsey Wilson College or Columbia United Methodist Church.
A memorial gift on behalf of the association will be forwarded to Lindsey Wilson College.