George Knight, 78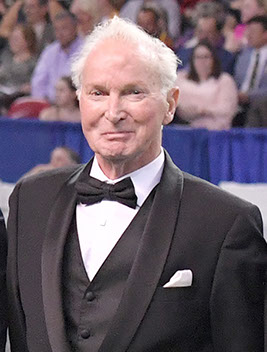 George David Knight, passed away on November 21, 2018 in Lexington, Kentucky.
Born on March 17, 1940, George began his career at an early age in his hometown of Cleveland Ohio; by the time he was sixteen he was managing the riding academy. George learned to gait a saddlebred from an African American horseman named Harvey Turley. George gained national recognition in the late 1970's while running a training stable in Ohio. There he trained world's champions like Christmas Carol, Serve Notice, Heart to Heart and others. Impressed by his success, Jean McLean Davis hired him as the private trainer for her stable in Harrodsburg Kentucky. George remained at her farm for twelve years and introduced such champions as Hometown Hero, Nitey Nite, Town Dance, Talk o the Town, and two-time Five Gaited World's Grand Champion Man on the Town and Three-Gaited World's Grand Champion Gimcrack. Ms. Davis' long time dream to win the World's Three-Gaited Championship herself was done during George's tenure at Oak Hill.
George left Oak Hill although he continued to own horses in partnership with her until her death. In 1992, George Knight Stables opened in Lexington, Kentucky at the old Jim B. Robertson Farm. He and his partner, Kim Skipton, have remained there since.
A man of many talents, George has trained multiple world's champions in Saddlebred, Hackney, and Roadster divisions. He is one of few trainers to have won the World's Championship in the Five Gaited, Three-Gaited, Fine Harness, and Roadster to Bike divisions. The only roadster horse George ever trained, Braveheart, won the world's championship in 2003. George was inducted into the World's Championship Horse Show Hall of Fame in 2003 as well.
George is a member of UPHA, USEF, AHHS, and ADHA; he is a much sought after licensed Judge (2018 World's Championship Horse Show Judge) and is the recipient of the UPHA Chapter Horseperson of the Year award.
George enjoyed the breeding end of the business and two of his broodmares earned Broodmare Hall of Fame status by virtue of producing World's Champions which he trained.
Per George's specific request, all memorial contributions are to be directed to Nancy Becker at the United Professional Horseman's Association's to benefit the UPHA Dewey Henderson Benevolent Fund: UPHA Dewey Henderson Benevolent Fund, Attn: Nancy Becker, 4059 Iron Works Pkwy Suite 2, Lexington, KY 40511.
No services are planned at this time.