Karin Folkers Joins Deep LM Farm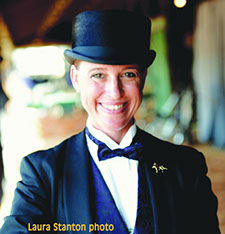 It is with great excitement that Deep LM Farm welcomes Karin Folkers to its team in Granville, Ohio as trainer and instructor. "After an exhaustive process, we are proud to present Karin as the "best of the best," and look forward to her growing our client program here at Deep LM Farm" stated Lili McCutchan, owner. Karin brings with her experience in all aspects of riding, showing, training, and instruction.
Teaching riding to others is her passion and she has an amazing resume that includes educating successful riders of all ages. Karin grew up on her parents' Saddlebred farm, Windy Hill in Illinois, and has ridden since before she could walk. She trained her first World's Champion at 18 and has numerous World's Championship wins or reserves on horses including My Hail Mary, The Red Ferrari, and others.
While she managed a very successful business early in her career, Karin also spent time with Donna Moore, Bill Matton, and numerous other noted industry icons; training young stock, and presentingfinished show horses for clients.
Lili says, "Her credentials are amazing and we believe she is going to be wonderful asset to our clients and families and look forward to a successful 2017 season." To schedule lessons or a tour of the facility please go to www.deeplm.com.