Earl "Pete" Teater, Jr., 89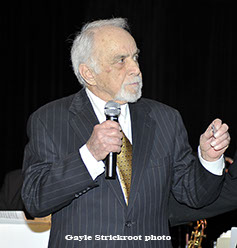 TEATER Earl "Pete" Jr., (89) of Lexington passed away April 20, 2016. Pete was a lifelong avid horseman who trained and raced thoroughbred and standardbred horses and trained and showed American saddlebreds. He is associated with some of the top saddlebreds as well as standardbreds/thoroughbreds for many years at various locations incuding the iconic Castleton Farm/Dodge Stables or Rochester, Michigan and Lexington, Kentucky. He is the son of legendary Saddlebred trainer, Earl Teater and Carrie Martin Teater. He is survived by his wife Kate Teater; brother, Edward; children, Earl Lair Teater of Grand Canyon, AZ, Cary Hazellief (Gary) of Fort Pierce, FL, Matthew Teater (Phyllis) of Turner Falls, MA. He is preceded in death by his parents; a brother, Louis Duncan Teater; and a son John Jay Teater. In lieu of flowers donations may be made to the Lexington Humane Society. A funeral service was held on April 23rd. Kerr Brothers Funeral Home on Main Street was in charge of the arrangements with burial to follow at Lexington Cemetery. Visitation will be the same day at the funeral home from 10am until the service at 12pm.
More to follow...please check back as we update.