Dudley Abbott, 90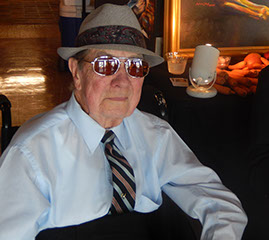 Dudley Abbott, 90, husband of Sharon L. Abbott, died Thursday, October 16, 2014. Mr. Abbott was born December 15, 1923, in Tarma, Kentucky to Jesse and Bertha McKinney Abbott.
He was a veteran of the United States Navy and served in World War II. Mr. Abbott was a Professional Horse Trainer of Saddlebreds, Hackneys and Shetlands and worked at Meadowbrook Farm in Ft. Wayne, Indiana. He also was former manager of the Tattersalls Sales and judged at the Lexington Junior League Horse Show.
Mr. Abbot was also a founding member of the UPHA, a member of the UPHA Hall of Fame, a member of the American Hackney Horse Society Hall of Fame, a member of the American Shetland Pony Association Hall of Fame and a member of the Indiana Horsemen's Association Hall of Fame.
In addition to his wife, he is survived by his children, Steve (Mary Paige) Abbott, of Florida; Dianne (John) Lengerich, of Indiana and Karen (Tom) Templeton, of Scottsville; his grandchildren, Doug (Evelyn) Abbott, Debbie (Chris) Brough, Jenny (Brian) Coffey; his great grandchildren, Kennedy Brough, Grant Brough, Michael Abbott, Sidney Coffey, Logan Coffey; 5 nieces and nephews. He was preceded in death by his son, Mitch Abbott and his brothers, Marvin Ray Abbott and Glendal Abbott.
Graveside services were held Monday, October 20 at 2:30PM at Camp Nelson National Cemetery. Casketbearers will be Brad Good, Brian Coffey, Merrill Murray, Chris Brough, Doug Abbott and Grant Brough.
Contributions may be made to the American Saddlebred Museum or UPHA Benevolent Fund.