Dr. Gene Ress, 82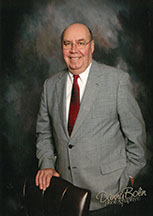 Dr. Gene Ress, 82, of Tell City, IN, passed away on Tuesday, December 12, 2017 in Louisville, KY.
He was born on January 4, 1935 to the late Robert and Betty Ress. He graduated from Tell High School, Indiana University, and Indiana University School of Medicine.
Dr. Ress was a family physician for 56 years and he and his daughter Nancy were the owners of NRG Farm in Tell City.
Doc loved to attend horse shows as an exhibitor, amateur videographer, on call physician, and cheerleader for the NRG customers and friends. Over the years he showed in the fine harness, pleasure driving, and country pleasure driving divisions with such horses as: SULTAN'S BLACK VELVET, OUR MAGIC MIRACLE, OUR SECRET MASTERPIECE, TOPANGA COUNTY, CH IRISH TRIBUTE, WISE AND WORTHY, and most recently CHAMPAGNE SYMPHONY and THE TESTAMENT.
He was a member of Evangelical United Church of Christ and its choir, the Schweizer Fest committee and its musical productions, and was the team doctor for the Tell City High School Athletic Department and its athletes for over 50 years.
He was preceded in death by his parents, brother Marion, son Glen, and his first wife Naomi.
He is survived by daughter Nancy and wife, Sally of Tell City, step childrenm Jeff, Tracy, and Todd Minto and several grandchildren.
A Celebration of Life in his honor was held at EUCC on December 17, 2017. Memorial contributions may be made to the Glen Ress Memorial Fund (c/o Nancy Ress) or the American Saddlebred Museum.