Dr. Alan R. "Doc" Raun, 92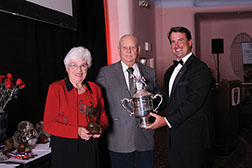 On Friday, November 8, 2019, Dr. Alan "Doc" Raun passed away at the age of 92. He is preceded in death by his beloved wife, Dotty, in February of 2018.
He was born in Sioux City, Iowa, on June 3, 1927. He graduated from Storm Lake High School, and then served in the United States Army. It is believed that he was the last surviving veteran of World War II in the Saddlbred industry. Upon his return home, he attended and graduated from Iowa State Veterinary College. It was there that he met the love of his life, Dotty.
Raun and Dotty married July 30, 1949. After he received his DVM in 1951, they moved to Ottumwa, Iowa, and began their family of six children. They lived there for ten years until the family moved to the present Reedannland farm at Cumming, where he practiced veterinary medicine and raised American Saddlebred horses and Hackney ponies. A large animal vet for some 25 years, Raun always had an affinity for horses, a love that began when he was given a shetland pony as a child. Reedannland became home to many Saddlebred and Hackney champions, many of whose bloodlines are known throughout the industry. Through the years, Dr. Raun served as a mentor to many of today's prominent trainers. Accolades and Hall of Fame inductions are abundant, most recently Dr. Raun was given the 2018 Lifetime Achievement Award from AHHS and the 2018 Wing Commander Medal from ASHA at the UPHA/ASHA/AHHS Convention.
Raun is survived by his children Rebecca (Mark) Westberg, Beth (Craig) Rowles, Peg (Ron) Johnston, Jeff Raun, Kate Raun, Terry (Kate) Raun, fifteen grandchildren and thirteen great-grandchildren and a sister Connie Raun Foss.
A celebration of life was held on November 25 at Norwalk Christian Church (Disciples of Christ). Memorials may directed to Norwalk Schools Nutrition Department, MStM Hot Lunch Donation Fund, or Norwalk Food Pantry.
The following was read during the 2001 World's Championship Hall of Fame Induction for Dr. Raun.
A native of northwest Iowa, Alan Raun is a longtime Saddlebred fan and as a youth groomed for trainer Merle White in Waterloo. He went to Iowa State University and graduated from vet school in 1951. While in college he purchased STARLET DELIGHT by SAN PEDRO and bred her to a Hackney stallion. Her first foal was JIMMY JOE, one of the greatest walk-trot ponies of all time and a many times World's Champion.
He began a large animal practice at Ottumwa, Iowa, and then started in the Hackney business. His stable was named Reedannland from his middle name, Reed, and his wife Dorothy's middle name, Ann. Since that time over 17 World's Champions have carried the prefix Reedann in their names.
The Rains had six children and in 1961 Reedannland moved to 330 acres at Cumming, Iowa. very close to the Des Moines airport. They build a 37 stall barn with an indoor arena and a veterinary hospital. Alan Raun went into Saddlebreds because of a diminished market for ponies. He retired and sold his highly successful veterinary practice in 1975 in order to devote full time to breeding, training and sales of both breeds. Reedannland earned a reputation of having top stock at reasonable prices.
Dr. Raun hit the big time in the Saddlebred world in 1979 when he purchased the stallion STONEWALL'S MAIN EVENT from Happy Valley Farm in Danville, KY. He syndicated this great sire who topped Saddle and Bridle's Sire Rating in 1984 and 1986. This was the most successful Saddlebred syndicate since the days of REX MCDONALD. The get of STONEWALL'S MAIN EVENT have been important winners here at the World's Championship Horse Show: CH LA LA SUCCESS, CH SEYMOUR'S FINEST HOUR, MAIN GLITTER, MAIN DAME, GREAT GUSTO, and many more. Reedannland has always had a top Hackney stallion. MERI-DELL'S DOUBLE KING, the sire REEDANN'S LINEBACKER, REEDANN'S GAMBLER, and FERNWICK'S BROWN JET and CASSILIS TROUBDOR both contributed to the Hackney.
Other noted Saddlebred sires at Reedannland include CH PHI SLAMA JAMA, ROSE'S MASTERPIECE, and CH TALK OF THE TOWN. With changes in breed association rules allowing the use of transported semen an embryo transfer, Reedannland has become known for its excellence in the equine reproduction technology.
Over the years Reedannland has had many winners at the Kentucky State Fair including CH ONE FOR THE ROAD, CH REEDANN'S NIGHTY NITE, CH SHIVAREE, CH JAUNTY JANETTE, and many others. Dr. Alan Raun has always been willing to help his fellow horsemen with veterinary problems. He has also made some highly popular instructional video tapes. He has served both the American Saddlebred Horse Association and the American Hackney Society.