There will be a Celebration of Life held in Donna's honor on February 16, 2014 from 11:00 am - 4:00 pm at Clark Legacy Center in Frankfort, Ky. This is the Sunday afternoon following the end of the ASHA convention.
Clark Legacy Center Address: 3000 Versailles Road, Frankfort, KY 40601. Just off I-64 and Versailles Road going toward Versailles.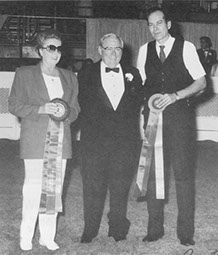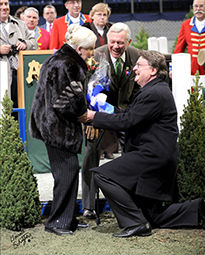 Donna Moore, 82
Donna Hobbs Moore, 82, former wife of the late Thomas Mitchell Moore, died Saturday, January 18, 2014. She was born January 28, 1931 to the late Ray and Iva Hobbs in Kansas City, Missouri. This legendary horsewoman was owner of Donna Moore Stables in Versailles, Kentucky for many years. Donna was an owner, breeder, trainer, and judge at the nations most prestigious shows. She also was part of the thoroughbred world as an owner for many years. She was a friend, mother, mentor and for most of her years, a member of the Saddlebred community. She was an astute businesswoman and a master deal maker. She had an eye for land and farms and what it could become with proper planning. Let's not forget her profound ability with horses and how she could change them from a colt to a horse in training. The names and numbers of horses are endless in the show horse world. She broke barriers for many young trainers and women of the trade as well. Donna was an active and important member of the UPHA since its inception 46 years ago. A moment of silence was given to this legend in her own time during the Saturday evening portion of the UPHA Convention in Chicago.
Don Combs, the youngest trainer to win the Kentucky Derby in 1970 with Dust Commander had known Donna for some 20 years and his involvement with saddle horses goes back a number of years. He has shown at many top events while working at the fabled Spindletop Farm, while Cape Grant was there, before entering the thoroughbred horse world. He had some thoroughbreds with Donna. He remembers Donna's sharp eye for a horse, regardless of the breed.
"We won a number of races and had a grand time. She would study the breeding and had a real mind for that. She was amazing to watch work horses, nothing got past her. She was a very good friend and will be missed by all. She was all business and was always so gracious and treated me in a professional manner. We went to a number of horse shows where her horses were showing, including Lexington and Louisville. I even joined her in her suite at the World's Championship Horse Show. She always made me feel welcome while she watched each and every class," stated Don Combs on his friendship with Donna Moore.
She is survived by her two daughters, Melissa Moore of Versailles and Melinda Moore of Lawrenceburg; a sister, Mary Ann (Owen) Clayton of Kansas; a brother, David Hobbs of Kansas; two grandchildren, Ashley (Nate) Strahan and Erin Gatlin; and a great grandson, Brody Thomas Strahan.