Donna Goose Warren, 89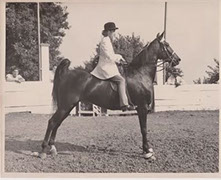 Donna Goose Warren, known as Memaw to her immediate family and Princess by her friends at Wesley Manor, passed on October 29, 2019 at the age of 89.
Donna was a strong-willed, witty woman who had immense pride for her family and its history, especially her uncle, Roscoe Goose, the winning jockey of the 1913 Kentucky Derby. She herself was an accomplished equestrian and often spoke of her favorite childhood memories of riding her beloved horses on the trails of Southern Parkway and through Iroquois Park. Donna was known to call a spade a spade but always had a soft spot and a piece of chocolate for her grandchildren and great grandchildren.
Donna was preceded in death by her husband, Robert; her parents, William and Essell (Hoffman) Goose; her sister, Catherine Shea, and her twin brother, Carl Goose. Donna is survived by two daughters, Carla Grego (Donald) and Kathy Yancey (Bill); her son Robert Warren and her cherished friend and caretaker Charlynn Houseal. Donna was a proud Memaw to seven grandchildren and six great-grandchildren.
The family would like to thank the kind staff of Wesley Manor for the tender care of their mother.
A service to honor the life of Donna was held Sunday, November 3rd Heady at Resthaven Funeral Home.