Don Judd, 80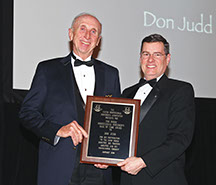 UPHA Tom Moore Hall of Fame recipient Don Judd passed away Tuesday, July 17 following a hard-fought battle with cancer. He was 80 years old.
A native of Cookeville, Tennessee, Judd spent a lifetime in the sport, gaiting his first horse at the age of 15.
For the past 32 years, with his friendship as well as business relationship with the Barbara Woods Family, Judd created one of the premier American Saddlebred training and show facilities in the Southeast.
Many of those years have been spent with longtime partner Maria Gilman, with the two producing world's and national champions from Judd Stables in several divisions.
A 2013 inductee into the UPHA Tom Moore Hall of Fame, Judd drove Sultan's Santana to the 1981 World's Grand Champion Fine Harness honors while at Castle Hills Farm. A few of his many champions include CH Lily Merrell, Eyre Lad, Nibley Dean, Among The Stars, CH Sweet Virginia, CH Passion, CH Winter Day, CH Gypsy Supreme, Undulata's Secret Rendezvous, Rondo, RWC Flavor Taste and many others.
In addition to Gilman, Judd is survived by his sons Rick and Ron and stepdaughter Christy O'Donnell.The UPHA would like to extend our deepest sympathy to all.