Dick Boettcher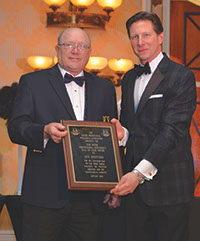 Dick Boettcher of Redmon, Washington passed away March 22, 2018. A 2012 inductee into the UPHA Tom Moore Hall of Fame and recipient of the ASHA Lifetime Achievement Award, Boettcher trained countless world's and national champions throughout his career as well as directed an extremely successful breeding operation at Silver Lining Stables in Danville, Kentucky back in the '70s.
Boettcher has been known for such greats at Stonewall's Crescendo, Ann Marie, Sweet Deception, Dutchman's Gold, Sportin' Life, Half Angel, The Red Rebel, High Ideal, They Odalisque, CH Beyond Reality, CH Full Spectrum, Sugar Pine, Be Happy, Rejoice, Doubletrees Steel The Show and CH Absolutely Fabulous, among others. Early in his career he worked for Ellis Waggoner, Bob Lewis, and Dr. Alan Raun.
He spent his entire career helping young horsemen become trainers and Boettcher's many friends will remember him for his array of colorful jokes.