Claude Harrison Shiflet, 87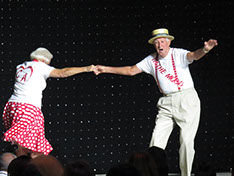 Claude Harrison Shiflet, age 87, of Asheboro passed away on December 7, 2019 in Asheboro. Claude was born in Churchville, VA on July 24, 1932 to Dyche Emory and Edna Skelton Shiflet.
He was a lifetime horseman. Claude loved his work and felt blessed to be the successful owner and trainer of Shiflet Stables in Asheboro for over 40 years. Claude was inducted into 8 Hall of Fames including The United Professional Horseman Association Hall of Fame where and was awarded their Lifetime Achievement Award. He was a former Board member for Rules and Regulations for the American Horse Show Association. He was a United States Equestrian Federation certified judge, judging all major horse shows across the country. He was formerly the American Saddlebred Association Ambassador to Australia.
Claude was an active member of First Presbyterian Church for 49 years where he served as a Youth Leader, Elder, and Deacon.
He and his wife Alice were volunteers for Meals on Wheels for 12+ years. He picked up food for Christian's United Outreach Ministries (CUOC) and was a volunteer for Our Daily Bread Soup Kitchen.
In addition to his parents, Claude was preceded in death by his brothers, Earl, Lenwood, and Riley, and sisters, Charlotte, Christine, and Lola Mae. He is survived by his wife, Alice Shiflet; sons, Harrison Shiflet and wife Beverly, Doug Shiflet and wife Debbie, Mark Shiflet and wife Jill, and Shane Shiflet and wife Suzy; grandchildren, Matthew Shiflet and wife Whitney, Taylor Shiflet Silvers and husband Justin, Grant Shiflet and wife Melissa, Brad Shiflet and wife Elizabeth, Daniel Shiflet and wife Amber, Andrew Shiflet, Grady Shiflet, Stone Shiflet, Piper Shiflet, Payton Shiflet, and Coley Shiflet; great grandchildren, Rowen Shiflet, Levi Shiflet, Clayton Shiflet, and Eliza Shiflet.
Funeral services were December 12, 2019 at the First Presbyterian Church in Asheboro.
Memorials may be made to Hospice of Randolph, P.O. Box 9, Asheboro, NC 27204-0009 or Christian's United Outreach Center (CUOC), PO Box 784, Asheboro, NC 27204 or Our Daily Bread Soup Kitchen, 831 E. Pritchard St., Asheboro, NC 27203.