Carol Fraser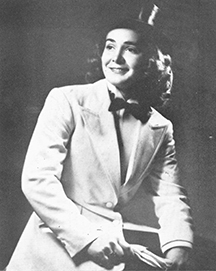 Carol Fraser, a Billings, Montana, horsewoman that traveled to Europe in the 1940s to learn classical dressage and jumping, and brought those skills back to Montana to train hundreds of students has passed away. She even rode her horse onstage while competing in the Miss America pageant. Fraser died on Dec. 11, at age 85 at the Primrose Personal Care Home in Billings, one of a family of talented riders who also succeeded in many other fields.
Miss Fraser enjoyed her most successful riding season in 1948. She showed her beautiful horse, Moonlight Dream, in shows at Dallas, Houston, Shreveport, Columbia (MO), Sedalia (MO), Des Moines, Louisville and the American Royal in Kansas City, along with the International at Chicago and never failed to win a blue ribbon. That same year, Miss Fraser also achieved the distinction of being the first amateur rider to ever win Grand Championship in five major shows in one season. She was equally at home showing the three-gaited, five-gaited or fine harness horse.
During the 1949 Miss America Pageant, Fraser, representing Montana, rode a Palomino American Saddlebred onto the stage in the talent portion of the competition. It went well until the horse nearly fell into the orchestra pit in front of the stage. This was the last time an animal act of any king has been use in the competition as some have caused near disasters.
According to the Miss America archives, Fraser was the last contestant to ride her horse on stage during the 1949 Miss America pageant competition in Atlantic City. "Animal acts were banned from the talent competition after Miss Montana's horse nearly fell into the orchestra pit," according to pageant history of the '40s.
She studied dressage, the classical art of riding personified by the Lipizzaner horses in Germany, in the former Yugoslavia, Texas and New York. To Fraser, riding was "an airborne activity." She brought that art back to the cowboy town of Billings, teaching young equestrians how to ride and jump with the proper balance and contact, and also taught riding in Powell, Wyo.
"She had the ability to put the horse with the rider, so they were in sync," said niece, Rene' Roswell Yarbrough of Billings. Dressage, also called horse ballet, is considered by many to be the highest form of horse training. "She was serious and intense, but man, was she funny," Yarbrough said of her aunt. "She had a dry wit, but you had to be smart enough to get what she was talking about."
In between her world travels, Fraser worked as a professional photographer in Texas, a physical education teacher and trainer and breeder of fine horses. Her favorite breeds were thoroughbreds and American Saddlebred horses. "The whole family rode horses, but Aunt Carol rode like crazy," Yarbrough said. Her father, Robert Berkeley (R.B.) Fraser, moved his wife and four children to Billings when Carol was a toddler.
Her late sister, Toni Fraser Rosell, was a longtime community activist, educator and Montana legislator, who ran unsuccessfully for lieutenant governor in the 1970s. Toni married Earl Rosell, best known for playing Santa Claus for Billings kids, spending four decades driving his horse-drawn sleigh around town. The Rosells also helped attract several movies to Billings, parts of which were shot on their ranch southeast of town: "Little Big Man" staring Dustin Hoffman, "The Missouri Breaks," "Son of the Morning Star," "The Legend of Walks Far Woman," "Far and Away" and "The Return to Lonesome Dove." Carol Fraser's brother, Robert Fraser, who now lives in Hawaii, also grew up riding in Billings and served as an alternate rider in the U.S. Olympics. The fourth and oldest child, Sue Fraser Kurth, lives in Billings. Her son, Wally Kurth, is an actor who makes frequent celebrity appearances in Billings.
Almost half a century ago on Dec. 11, the same day as her recent death, Carol Fraser opened a local riding academy called All Trails, which she billed as the Northwest's newest and finest riding school. The school was located on the Fraser ranch atop the switchbacks on Old Highway 87E about five miles east of Billings by Pryor Creek. In March, the Crow Tribe bought back their ancestral land during an auction in Billings and renamed the land Arrow Creek Ranch.