Betty Neil, 99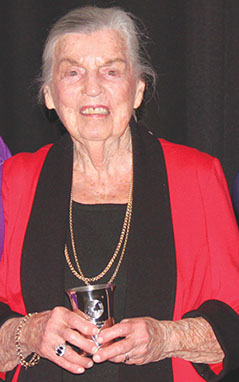 Mary "Bess" Neil passed away on November 15, 2018 in Cleveland, Tennessee at the age of 99.
Bess was born on December 21, 1918 to Pearson Blythe and Mary Summerfield Key Mayfield. She attended Girls Preparatory School in Chattanooga and Bob Jones Academy in Cleveland. After graduation, she attended Miss Simple's Finishing School in New York City. She married David Hardee Neil in 1942.
Bess Neil was granted a long and love-filled life. She was aware that her time here was greater and fuller than that of many others. Her gratitude for God's gift to her was often expressed in words but even more so in deeds. She was steadfast in her love of God and his creation.
She made more than adequate time for her family, her church, her friends, her garden club and all those involved in her horse and farm operation (who were also family). She loved Bradley County, its people and its sense of history, heritage and agriculture.
Bess joined, encouraged, and supported those institutions essential to a vital sense of community: the Cleveland Bradley County Public Library; the Museum at 5ive Points; and especially the Tri-State Exhibition Center. She leaves Bradley County knowing her children and grandchildren and so many others share her devotion to these wonderful assets of community unity.
Together with her husband David, they established Blythewood Farms and produced many outstanding Saddlebreds. After David's untimely death in 1965, Bess kept their dream alive and took over the management of Blythewood Farms. Bess continued their dream for over 50 years and with her daughter, Anne Neil, produced many World Champion horses. Blythewood has won over numerous World Champion and Reserve World Champion classes over the years.
She was an active and dedicated member of Cleveland Church of Christ. She was also a member of the Magnolia Garden Club, Daughters of the American Revolution and United Daughters of the Confederacy.
She was preceded in death by her parents, Pearson Blythe and Mary Summerfield Key Mayfield, her husband David Hardee Neil, her brother Pearson Blythe "PB" Mayfield, and son-in-law J Max Everhart.
She is survived by her daughters, Margot Neil Everhart and Anne Mayfield Neil; her grandson John Blythe Everhart and wife Lou Everhart; granddaughter Mary Key Everhart Waller and husband Jordia Waller; great-grandchildren Mary Pearson Waller, Treutlen Elizabeth Waller and Harrison Blythe Everhart.
A celebration of life was held to honor Bess on November 20th at The Museum Center at 5 Points.
In lieu of flowers, please send donations to: The American Saddlebred Museum, 4083 Ironworks Parkway, Lexington, KY 40511 and Tri-State Exhibition Center, 200 Natures Trail, McDonald, TN 37353.